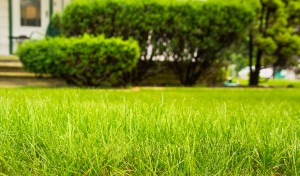 If you're looking for a way to make your lawn stand out, then there are a number of things you can do. Overseeding, aeration, and top-dressing are all good ways to create a lush green lawn.
First of all, overseeding simply involves adding new seeds to your existing lawn. This can help your grass grow thicker and fill in bald spots. Overseeding can be done by hand, but for the most even coverage it is best to rent a specialized machine or to hire a professional landscaper to seed your lawn for you. Adding seed is best done in the spring, when most species of grass grow fastest.
Aeration involves removing small plugs of soil from the yard. It can reduce soil compaction, allow for better movement of water and beneficial microbes, and give the plants greater access to oxygen. Aerating is best done in the spring or fall, because doing it in the heat of the summer can cause the grass to become stressed. A special machine is required to aerate a lawn. While rentals are available, it's best to leave this job to a professional company.
Top-dressing involves spreading new soil on top of living grass. This is an excellent way to add nutrients and improve the environment your grass grows in, without having to pull up the entire lawn. However, top dressing is a very involved process; it requires that soil be added to the entire lawn at a thickness of one-quarter to one-third of an inch. Once the soil is evenly spread, a rake must be used to clear the dirt off of the existing blades of grass. This is a very labor-intensive process when done by hand, and even with specialized machinery requires some work. It's best to hire somebody to do the job for you.
By investing in your lawn, you can get the best grass on the block. Overseeding, aeration, and top-dressing are all good ways to improve the appearance of your yard, particularly if you hire a professional landscaper to help.