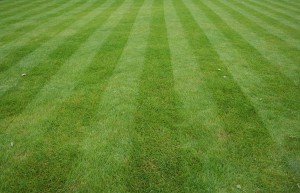 Whether you enjoy the feel of lush grass under your bare feet or you simply want your lawn to add some extra curb appeal to your home, lawn fertilization is important for ensuring the grass stays green and healthy. Of course, this means you need to understand fertilizer and determine which one will best meet your needs.
Organic Fertilizers
Powdered minerals combined with animal or plant waste make up organic fertilizers. Because of their makeup, it is difficult to guarantee the ratio of nutrients, so these are typically sold as a soil conditioner rather than a fertilizer. Organic fertilizers improve the soil's structure in addition to keeping plants healthier. They release slowly, making it hard for you to harm your lawn with over-fertilization, and the environmentally friendly product is sustainable, biodegradable and renewable. Of course, like any product, organic lawn fertilizer has some disadvantages, too. Organic fertilizer doesn't work without microorganisms breaking down and releasing nutrients, something they can't do when the weather is cold, and the ground is hard. Additionally, organic products don't break down right away, so your plants may not receive what they need right away.
Chemical Fertilizers
Chemical fertilizers are available under several different names, including synthetic, inorganic or manufactured. These refined products extract nutrients and use fillers to bind them into specific ratios. While some of these chemicals occur naturally, many are refined, which almost never happens naturally. Chemical fertilizers may consist of rocks, petroleum or organic sources. Because the chemicals release the nutrients right away, your lawn will look better in a matter of days if you choose this method. Inorganic fertilizers are also affordable and use standard labeling that makes them easier to understand. On the other hand, manufactured fertilizers use nonrenewable sources and are not at all environmentally friendly. They don't add any value to the soil around the plants and can even damage it over the long term.
Choosing the right lawn fertilization depends on your specific needs. Use chemicals if you need an improved lawn right away and organic if you want to ensure its overall health.