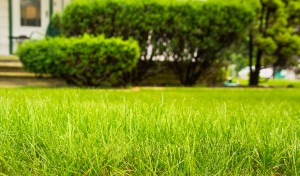 Keeping the lawn looking lush, green and healthy can be a great source of pride for homeowners. The problem is that success at accomplishing this seemingly normal task can be rather time consuming and elusive. A lawn care service can really simplify your life, and knowing a few lawn care basics will help you achieve that great looking yard you desire.
The proper use of chemicals is first on the list. The temptation to overuse pesticides and herbicides can be great when your yard is infested with undesirable bugs and weeds. However, more applications and stronger chemicals are not necessarily the answer to your problem. Knowing the source of the problem is the answer to solving these types of difficulties with your lawn. Underlying causes may result in infestations that heavy and frequent doses of chemicals may not resolve. A lawn care service specialist can sometimes help provide you with answers to specific questions you have about using chemicals responsibly and effectively in your particular situation.
Mowing seems simple enough, but there are a couple of key factors that determine whether your yard will resemble a golf course or look more like a spruced-up vacant lot after it is mowed. The first consideration is the condition of the blade. Make sure your mower's blade is extremely sharp so that it cuts the grass easily and evenly. If you see white tops on the blades of grass after you mow, it is an indication that your blade needs sharpening.
Water and fertilizer are necessary to achieve that really professional look usually only provided by a professional lawn care service. Water in the morning or in the evening, but try to avoid watering in the heat of the day. Getting the best results from fertilizing can be a little tricky. Check the directions provided by the manufacturer and consult with local experts for best results.
A beautiful lawn is the aspiration of most homeowners, and it speaks volumes about the people who live in the house. Keeping yours looking its best is just a matter of applying a few basic principles and being willing to get help when you need it.