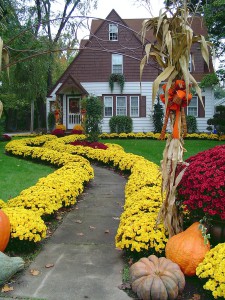 You many not think so, but fall is a great time to fertilize your landscape. If you just spend a few days this fall laying down fertilizer and complete the basic fall lawn care, you landscape will look greener than ever when spring arrives.
Finding The Formula
Fertilizer formula is represented by three numbers, which represent a given fertilizer's levels of nitrogen, phosphorous, and potassium, in that order. You'll give your lawn two varying doses of these nutrients before winter comes. Aerating your lawn at the beginning of autumn will help your grass get the maximum benefit from this fall fertilizer, as well as give it more water and air. Your grass may be tired after a long hot summer, but a boost of nitrogen-rich 20-8-8 fertilizer in the early fall will wake it right up and stimulate blade growth. When you come back later on, it should be with a 13-28-12 formula to provide a rush of phosphorous to encourage root growth into the winter. Stronger winter roots will result in greener grass faster come spring. And remember your lawn needs moisture year-round. Snow provides plenty, but if your town goes long stretches between snowfalls, give your grass a sprinkle now and then.
Empower Those Perennials
Once the grass is ready for winter, turn your fall landscaping eye to your perennials. Scatter a 0-20-0 formula packed with phosphorous around these plants and work it into the soil. The strong roots that result will help these plants produce more, bigger flowers next year. Use any extra super-phosphate fertilizer in the soil when you plant your bulbs so they lay strong roots, too.
Fall fertilizer is all about helping your lawn, plants, and trees build up strong roots over the winter. And as you'll see come spring, healthy plants are beautiful plants.   If you need help selecting a fall fertilizing program, give us a call.  At GreensKeeper we can provide helpful tips and the right fertilizer solution to ensure that your lawn will be in the best shape for spring. Call us or click here for a quote.